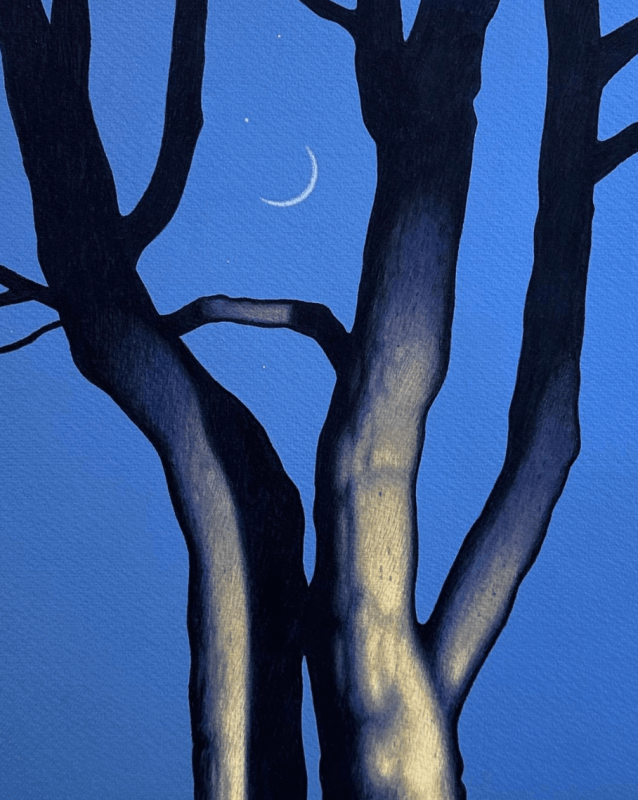 *A COMPLETE CATALOG WILL BE AVAILABLE ON SATURDAY, SEPT. 9TH

Brandt-Roberts Galleries is delighted to present In The Trees The Night Wind Stirs. This solo exhibition by acclaimed Columbus-based artist Christopher Burk is composed of over twenty works, including large and small-scale pieces in oil and gouache on paper. This new series hails from Burk's artist Residency in Dresden, Germany last autumn. He held no preconceived notions of what work was to ensue from his sojourn, until one early, fall evening walk in the 'Alaunpark', he took a snapshot of a periwinkle Dresden sky glimpsing through an expanse of foliage, and thus this series was conceived.
Trees, and their ever-evolving forms have been a recurring source of interest for Burk, as this motif is notably denoted in his former Nocturne and Flooded Landscape series'. Burk's subject matter has been extensively gleaned from encapsulations of a physical realm, be it an alleyway, dumpster, or an illuminated house at dusk. Contrarily, this series allows the observer to step into a figment of his imagination as many of the pieces are based off of only elements, as opposed to the whole, of a tree or trees in reality that kindled Burk's curiosity.
Ever the observer, Burk reflects upon the parallels between this body of work and his previous studies as he likens telephone and utility poles to man-made trees, and their wires to tree branches. The nocturne, and illumination has also frequently been a source of intrigue for Burk, as has been portrayed through multiple series he has executed. This series in particular is a practice in the simplifying of his compositions. The subjects are primarily dark, graphic silhouettes, with their trunks illuminated by an unknown light source, of which dissipates up the trunks. The branches and foliage remain as a dark, shadowy expanse. Thus, Burk plays upon a rendered as opposed to a flat silhouette. These are then juxtaposed against a backdrop or sky of pinks, corals, lilac and cool and warm shades of blue.
Throughout much of Burk's work, a consistent sentiment is posed to the viewer: To slow down and observe that which is around you, paying particular attention to that which is obscure, seemingly insignificant details, and the elemental beauty of nature of which we so easily depreciate.
Burk's work has been shown across the country, including Columbus and Cleveland, OH, New Mexico, Chicago, New York, New Hampshire, and Georgia. His works have also been acquired for private and public collections nationally and internationally. Notably, his work was exhibited in Matanzas, Cuba in ConnectArt during the 13th Havana Biennial.
In The Trees The Night Wind stirs is on view from Friday, September 8th, with an artist's reception from 5-7pm. The exhibition will be on display through October 1st during gallery hours, Wednesday through Friday, 11-5pm, Weekends 1-5pm and by private appointment. An early electronic preview will be available Saturday, August 26th. Private appointments and early previews can be requested by emailing info@brandtrobertsgalleries.com or calling 614.223.1655.