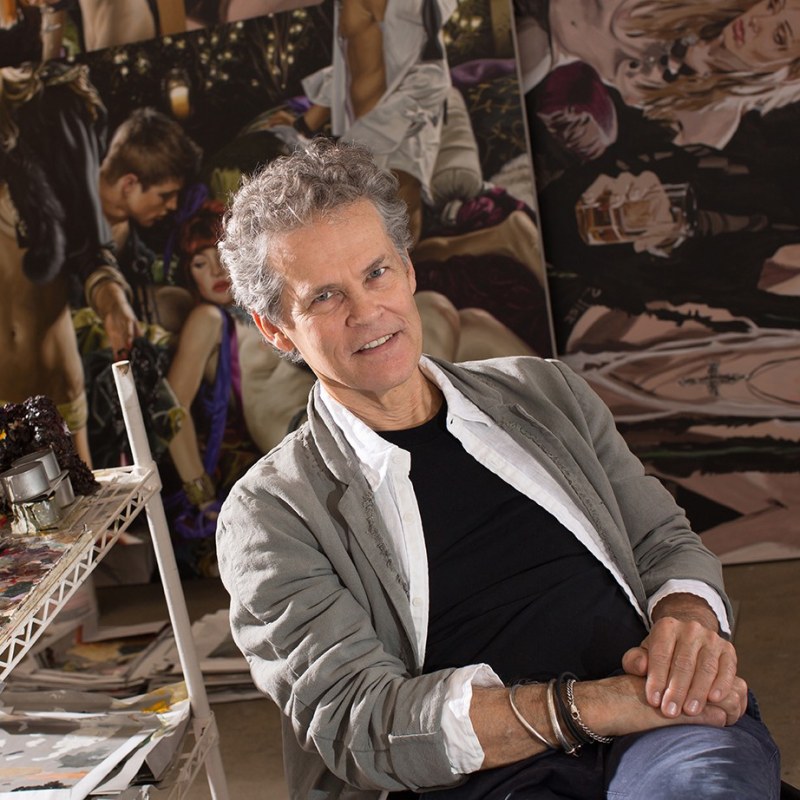 American
B. 1947
Terry Rodgers is an internationally recognized artist who has worked and lived in Washington, DC, Massachusetts, and Ohio. Rodgers' current work focuses on portraying contemporary body politics. His rendering of an imaginary leisure life stands as an iconic vision of the tensions and confusions endemic to today's society. His large-scale paintings are not snapshots or slices of life, but rather a compression and dissection of our rampant imaginations and mediated influences. The seductive and marvelous glamour of the outer world jars against the vulnerability and delicacy of our inner and private selves.
In addition to his large-scale paintings employing his distinctive cinematic aesthetic, Rodgers goes beyond the representational working in a variety of other mediums from sculptures in bronze and mixed media, to his gestural drawings and small paintings, to archival prints, video, photography and more.
"I prefer to think in terms of complexity. These paintings are a compression of experiences, uncertainties, influences, commercial imagery, gestures, desires and vectors representing the complexity of interactions."
Rodgers' first solo European museum exhibition opened May 2009. His work has also been represented in numerous museum group exhibitions. In 2007, his work appeared for the first time in Art Basel. And in 2005, three of his monumental figurative canvases were presented at the Bienal de Valencia. In the United States, he has had solo gallery exhibitions in New York, Los Angeles, Atlanta, and Chicago; and in Europe in Brussels, Amsterdam, London, Zurich, and Milan. European Musea exhibiting his work include the Stedelijk Museum-Hertogenbosch, the Kunsthalle der Hypo-Kulturstiftung in Munich, the Museum Franz Gertsch in Burgdorf, the Museum Folkwang in Essen, Kasteel van Gaasbeek in Belgium, the Scheringa Museum of Realist Art in the Netherlands, the Kunsthal Rotterdam, the Kunstalle Krems in Austria, Kunsthalle Emden in Germany, Kunstmuseum Bern and Zentrum Paul Klee in Switzerland, me Berlin, Kunstverein Heppenheim in Germany, the Galerie Rudolfinum in Prague, Drents Museum in the Netherlands, and Kunsthalle Emden in Germany.
Several books about his work have been published including: Dimensions of Ambiguity, The Apotheosis of Pleasure, Solo Spaces, Sweet Illusion, and Vectors of Desire. A new comprehensive book will be published in 2023. His work has appeared in many museum catalogues, and Rodgers has been featured in numerous publications in America and abroad including Die Welt, Art in America, Citizen K, German GQ, Kunstbeeld, Arte, Die Zeit, NRC Handelsblad, Numero, Zoo, Le Vife, Joia Magazine, Elle and FLAUNT to name a few. His works can also be followed widely in blogs internationally.