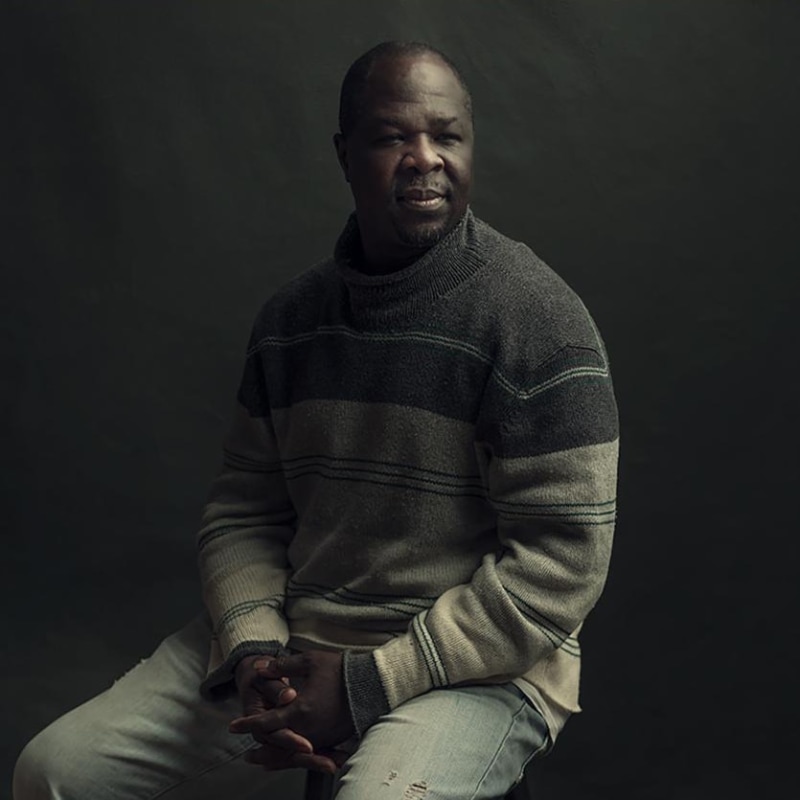 African-American
Born in Kara, Togo, West Africa, Bamazi Talle can best be described as an artist who uses canvas as a site for activism. He began his artistic career as an apprentice to his uncle, a traditional Togolese artist. Although he went on to study architecture in Lomé, he favorably transitioned to painting. Through his art, Talle is intently compelled to share the story of his homeland while dispelling the notion that Africa is largely a violent and impoverished country. He purposefully pays homage to his ancestors and the culturally significant ties between traditional and contemporary ideas.
Arriving in New York in 1995, with absolutely no understanding of the English language, Talle embarked upon what was the most challenging adventure of his life. His quest for knowledge led him to the New York Student Art League where he immersed himself in American culture. This was the beginning of Talle's contributions to contemporary African art in America. He continued his education at the New York Academy of Art and graduated with a Masters degree.
Upon completing his degrees, and amongst the bustling art activity of New York City, Talle began exhibiting in a multitude of area galleries and institutions. It was at this time that he realized his greater desire was to raise the visibility of other African and African-American artists with the broader public. This aspiration would come to fruition with the establishment of KIACA (Kabiye Impact Contemporary African Art) Gallery in 2003, located in Columbus, Ohio. With KIACA, he was able to educate patrons on the enduring cultural gifts of his beloved Africa, while also serving as an influential talent incubator for young artists of color.
"Most of my work is also very spiritual because I follow nature, and nature never lies."
Even today, Talle's life and art has been fueled by his passion for African culture. The calabash, a large, woody gourd, is an important and recurring symbol in Talle's work. The calabash is an African symbol for sustenance, hospitality, and fertility and is highly revered culturally for its nourishment and reliability. Beyond the edible fruit, the dried and hallowed calabash abounds with pragmatic purposes-for serving or storing food, acting as a vessel, or crafting ritual regalia. Talle depicts the calabash ethereally floating in the pictorial space. It is profound in both its simplicity and significance. In this way, the calabash becomes a symbol of mythological and proverbial interpretation.
Bamazi Talle's monumental series of life-sized portraits of Columbus-area black artists, formerly featured at the Columbus Museum of Art, now hangs in the historic Pythian theater at the King Arts Complex. His mission is to create and celebrate contemporary African art while showcasing the hope, respect, and strength found in his native homeland.
Talle's latest series of pandemic-inspired calabash paintings, adequately titled Kiguilou Pinah (Year of Sorrow), was recently exhibited at Otterbein University (Westerville, Ohio) in 2021 and the Columbus Museum of Art (Columbus, Ohio) in 2022.